Miami, Florida – Odysseus Solutions has released a new whitepaper, The Digitization of Cruise Bookings, that emphasizes the need for all travel sellers to deploy an online presence and adopt a comprehensive cruise booking platform.
The whitepaper offers an overview of the factors that influence consumer purchasing behavior today, provides insight into some of the challenges experienced when booking a cruise and examines the need to merge online consumer research with travel agent expertise.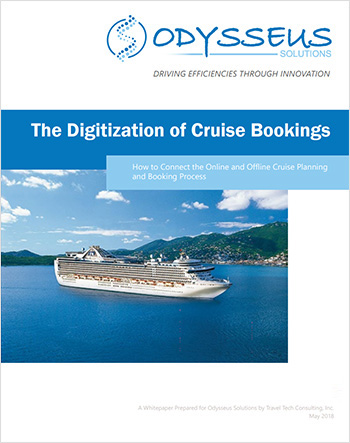 Author Norm Rose, President of Travel Tech Consulting, says that while cruise has a low online booking rate compared with other travel sectors – just under 20% in the US during 2017 according to Phocuswright – it is likely most cruise customers spend hours online researching their trip.
"Clearly there is a need to integrate online research with offline expertise," he says.
"It may sound counter intuitive to some traditional agents who want to keep the booking offline but allowing the consumer to plan online with an agency-sponsored cruise booking tool may represent one of the most important ways to integrate online and offline activity."
To do this, Rose says "travel agencies need a comprehensive cruise technology platform".
Monish Luthra, President and CEO of Odysseus Solutions, says there is little doubt the proportion of online cruise bookings will grow with mobile devices playing an increasingly influential role.
"Integrating the online and offline experience is critical since many consumers will switch between various devices as they research and eventually purchase their travel," says Luthra.
"Regardless of how a consumer ultimately purchases a cruise, the ideal solution needs to integrate the online and offline process and provide the consumer with up to date availability and pricing as well as detailed descriptions featuring rich media including images and videos on their websites."
Odysseus was founded in 2005 to fill the industry need for an online travel booking engine that automates processes and is easily customized to support a client's unique brand identity. The result was the Odysseus Booking Engine, one of the most complete and advanced online travel booking engines available today.
"The Digitization of Cruise Bookings" whitepaper can be downloaded at:
https://www.odysseussolutions.com/wp-content/uploads/2022/11/digitization-of-cruise-bookings-odysseus-solutions.pdf