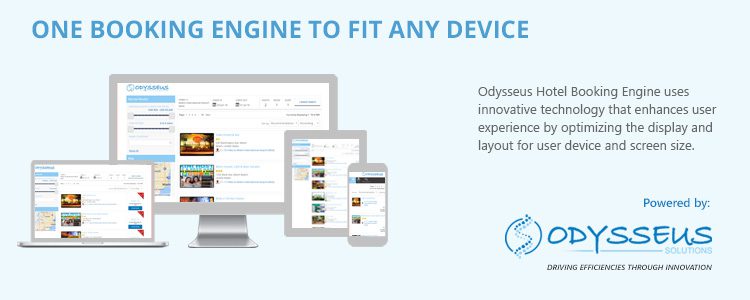 This Online B2B, B2C and B2B2C application hosted by Odysseus provides a seamless online experience by customizing the headers, footers and style sheets based on a Clients specific branding. Complete private label versions are also supported where Odysseus can change the layout to meet a client's specific requirements. Access to Hotel content is currently provided via Expedia Alliance Network and Tourico Holidays, however additional content sources can be easily added (note additional fees may apply).
PRODUCT DETAILS
The Odysseus Hotel Booking Engine is a Business (B2B), Business to Consumer (B2C) and Business to Business to Consumer (B2B2C) application.
Key Features
The Booking Engine is hosted by Odysseus, however you can customize the headers, footers as well as the look and feel to provide a seamless online experience for customers visiting your website(s). The administration section has several powerful features which give you the control to manage your business. Some of these features worth noting include:
An "Affiliate" model that allows you to quickly add affiliate users & websites.
Detailed descriptions linked to media files & rich content to assist in the shopping process.
Promotions Section that makes administering targeted sales/promotions easy.
Reporting capabilities to allow you to easily track your business.
Key Benefits
Easy to use application has agents selling faster
Customizable to maintain your own brand identify
No limit on number of websites you can have –or- the number of users
Online knowledge base and support available around the clock